This Is Me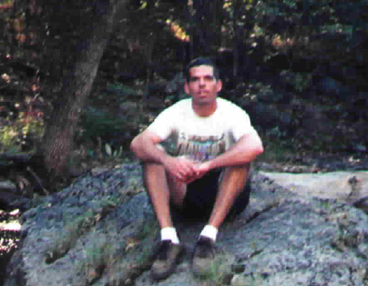 Click Picture To Go To My Personal Page
Hello, my name is Lee, and I thought I would just use this space to tell a little about myself.

I live in Rapid City South Dakota. I was born in Rapid City and I spent most of my life living in Montana and South Dakota. I also spent four years in California while serving in the Air Force. I am attending school at Oglala Lakota College, (OLC) and am in my senior year now. I am majoring in Environmental Science \Conservation Biology. I have also spent two years at Black Hills State University in Spearfish majoring in Outdoor Recreational Education. I have two brothers. Leo is my twin brother and he is a Catholic Priest in eastern Montana. His web page can be seen

here.

My younger brother, Lew, lives in Box Elder, just outside of Rapid City. He is married to Sherry, and they have three children. He likes to work on radios, and his radio shop home page can be seen

here

. My mother passed away in 1984, and my dad lives in Hermosa, a small town about 20 miles south of Rapid City.
After graduation, I would like to get a job as a conservation interpreter, an educator in a social setting rather than an institutional setting.

I enjoy environmental research and a connection with traditional knowledge as it pertains to the environment.

I have a 2 yr old mustang paint that I enjoy working with in my spare time.

I am hoping to start breaking him to ride the later part of next summer.

He is a great horse that I got from a mostly wild herd over the summer.

He is very smart and is a fast learner.

I enjoy anything outdoors and see time spent in the outdoors as true medicine.

I also enjoy photography, cooking, pow wows, and caving.

A few favorite places that I visit regularly visit are Ft Meade Rec Area, Bear Butte, Harney Peak, The Badlands, and Wind Cave. Other places I enjoy are Yellowstone, Glacier Park, and White Sands. I like Italian & Mexican Food.

Values that I strive to incorporate into my daily life are respect for others and all things around me, compassion for other people, and honesty, courage and wisdom to be ethical and do what is right in everything I do. I would like to someday have a small ranch as a hobby raising horses and bison.
During the summer of 2007, I camped out while I worked on my senior research project. My research consisted of ten sites along Wounded Knee creek on the Pine Ridge Indian Reservation from which I collected macroinvertebrates for a habitat assessment of the watershed. Along with the collection of the bugs, I did visual assessment and had conversation with residents along the creek and Elders around the area about their views of the current status of the creek and some concerns that they had. I am still sorting data and compiling my research report for this project. My hopes for this project include awareness to problems that exist, and develop an educational outreach tool that will serve to help protect one of our most valuable resources. Using some methods from western science along with Traditional Knowledge, I believe that this research will be a useful tool to serve this purpose.



I enjoy about anything in the outdoors hiking, camping, fishing... photography, and music of all types. Visit my

Personal Web page

to find out more about me. See my

Photo Album

for pictures.
Below are links to search sites that may be helpful to find more information on:
Lakota, Education, Conservation, Environment, Lee McDowell, Environmental Science, Conservation Biology, Conservation Education, Environmental Education, Respect, Outdoors, Oglala Lakota College, Lakota Values, Lakota Culture, Lakota Education, Outdoor Education, Environmental Organizations, Conservation Organizations, Outdoor Recreation, South Dakota, Black Hills, Rapid City, Pine Ridge Reservation, Lakota Sioux
"Changing the Way that the World Looks at the Internet!"